The Stories Of Our Clients​
Throughout the years Duque Immigration Services (DIS) Canada Inc. has had the pleasure of meeting many great individuals with their unique stories. Our clients are the foundation of DIS Canada Inc. and we thank them for allowing us to take a part in their journey
Sorianos' and Managuelod Family
While the procedures for applying for a Visitor's Visa may seem an easy process, you will be surprise to know that there is actually a higher risk of refusal in cases where the application is not properly prepared. As of matter of fact there are probably more visitors visa refusals I have seen in my last 3 years of my career as an immigration practitioner.
Four years ago, Nanfe Managuelod's application for TRV had been denied. I can tell when I first spoke with her that it frustrated her to no end. What's even more sad to hear is that all her siblings and parents has been living in Canada since the 90's; and all she ever wanted is to be united with her family in Canada even just for a short time. This is the letter that she wrote me:
"Ang aking mga magulang ang isa sa mga rason kung bakit ako nabubuhay, lagi silang nakaalalay sa akin, lagi silang nakasuporta na sa kahit anong bagay o pangyayari sa aking buhay bagamat milya milya ang layo namin sa isat isa hindi sila nagkulang ng pangaral , pagtulong, pakikidalamhati at pakikisaya sa mga pangyayari sa aming buhay at higit sa lahat pagmamahal. Pinalaki ako/kami ng aking mga magulang ng maayos at may takot sa Diyos at higit sa lahat binusog nila kami ng pagmamahal na hinding hindi kailanman matutumbasan ng kahit ano mang karangyaan. Hindi man nila naibigay lahat ng gusto namin naibigay naman nila ang lahat ng kailangan namin. . Halos araw araw ko man sila nakikita sa tulong ng makabagong teknolohiya gusto ko rin sana silang alagaan at makasama lalo na ngayon matatanda na sila."
When Nanfe's younger brother, Palomar, an RN based in Winnipeg called me, I said Yes absolutely we can always re-apply for a Visitor Visa. However, a re-application following a refusal is always a bit more complex given that this refusal remains on her history.
This is why is it vital to submit a well prepared Visitor Visa application following a refusal with relevant supporting documentation and compelling reasons. We submitted her application on April 30, 2016 and spent long and sleepless nights preparing her case carefully and waiting for the result (May10, 2016).
Arrival- Last Tuesday was Sorianos' and Managuelod's day!! They have been waiting patiently for this day to come. It was extremely satisfying as she climb down the escalator looking for her family, I could just imagine the excitement of being with the family she sorely missed. As I was taking their pictures, it's moments like this to feel the love that this family have for each other, is such a humbling experience.
Happy 57th YEAR Anniversary to Mr. And Mrs. Soriano, Wishing you nothing but happiness and togetherness on your special day!
Welcome to Canada Nanfe!! I am Honored that you chose me to be a part of your journey! Thanks Palomar for calling me.
Here at DSMACS we are certain we can help you increase your chances at getting an approval on your Canadian Immigration Application. If your application for a Canadian Visa has been refused, let us help you by Contacting us for free consultation.
Congratulation Crissa Karmela!
Ms. Mendoza is coming to Calgary to this fall to study Event Planning and Management @Bow Valley College. She has been working in Dubai in the last few years and is here for an Educational Upgrade. We submitted her Student Permit application on May 16, 2019, and received a positive approval on June 3, 2019.
All of this would not have been possible without the all-out support of her parents, Lorna Mendoza and Dominador Mendoza Jr. (and brother) who currently resides in Calgary, Alberta. Their dedication to bringing their daughter to study here is remarkable. As parents, we always want the best for our children. Having Crissa Karmela to study here may have cost thousands but having to be together with the rest of the family in Canada is priceless!!
Thank you for having DUQUE IMMIGRATION SERVICES INC. be a part of your journey. #[email protected]
Canada has a long tradition of promoting family reunification in Canada. In fact, it is one of the main objectives of the Immigration and Refugee Protection Act (IRPA) to see that all families are reunited in Canada.
Ian and Melanie are both certified professionals; Ian's background is in Accounting and his wife is an Agricultural Specialist. As Immigrants they are coming in to Canada as a vital source of manpower. Manitoba on the verge of an economic boom is needing Professionals like Ian and his wife, they will be part of the important component of progress.
Ian was referred to me by his brother Levi, a Registered Nurse living at Portage La Prairie, Manitoba. Levi's family was one of my first client when I was an associate with an Immigration firm here in Winnipeg.
Levi contacted us and mentioned that his older brother, Ian, initially applied to Manitoba Provincial Nominee Program sometimes in 2014 and was nominated by MPNP in early 2015. This is the same year when the Federal Government launched the New Express Entry Program which allow certain provinces to participate and nominate applicants who meet at least one of the three federal economic immigration programs criteria.
Under the first 'pilot' phase of this initiative, Ian application happened to be one of the few selected candidates by the province of Manitoba; he was given an advised to go through the Federal Skilled Workers via Express Entry which supposed to expedite their immigration application process. However, before the applicant is selected, as per the MPNP Policy, MPNP officer should assessed the Candidates application based on the documents included with their MPNP application. In Ian's case, MPNP failed to verify Ian's work experience and matched with the FSW requirement based on the National Occupation Classification (NOC), which is a system used to classify jobs in the Canadian economy. In other words, Ian didn't qualified under the FSW in the beginning, so why was he recommended by MPNP? Ian was not a client of the firm at that time and unfortunate, that in the spirit of the law we could not provide him any legal advice.
Several weeks have passed, I got an email from Levi, sadly, Ian and his family have received a rejection letter from the Federal Government; their dreams of coming to Canada was in jeopardy.
Ian's family signed our firm on as his Immigration Consultant, instead of pursuing the FSW via Express Entry, we went back and analyzed his MPNP application and documents. It was clear that he didn't qualify as a FSW applicant. It's a whirlwind deadlines from there on, the road was never easy for this family. We spoke to MPNP several times and after much ado, going back and forth demanding why and how they would have selected Ian's application even though there's not enough evidence in his file to show that he meets the FSW criteria. Intake officer advised us to have it in writing detailing our findings. But for odd reason, the following day, we have already received an email from MPNP with Ian's new nomination certificate under the regular MPNP program instead of the Express Entry. We just focused on what matter the most, although It was a rollercoaster ride, it's all worth it!
On February 2016, we have immediately submitted Ian's application for PR and he was granted Permanent Visa along with his wife Melanie, their 5 years old Isabela, 2yr old Gabrielle and newborn (7 months old) Lorenzo on July 2016.
Provincial and Federal, aside from choosing their nominees from a pool of talented and educated applicants is also keen on reuniting families. Ian is joining his Brother Levi and sister Joy, here in Manitoba along with their mother Virginia (under SuperVisa). And we are hoping that DSMACS consulting Inc will be able to bring their youngest last sibling Thea to Manitoba. Canada has always been pro -family, and this family is the best example that I have seen so far. Again welcome to Canada, Ian and family! Thank you for choosing me to be a part of your journey.
Congratulations Micael-sudimai Dalguntas for having your Permanent Residence application through MPNP application via Express Entry Approved!
There were few hiccups along the way..but Mr. Dalguntas made it with flying colours.
The New MPNP program is true economic immigration. It could be a lengthy process if you don't know how to use the strength of the applicant properly.
Mr. Dalguntas strongest support is his parents, they have been there every step of the way. Their dream of bringing their son and his family is almost a reality. Their sacrifices have finally been rewarded.
TIMELINE:
EOI – NOV 23, 2017
MARCH 13, 2018 – LETTER OF ADVISED WAS ISSUED
APRIL 11, 2018 – SUBMITTED EXPRESS ENTRY PROFILE
MAY 11, 2018 – MPNP APPLICATION
OCT 23, 2018 NOMINATION
DEC. 18, 2018 – PR APPLICATION SUBMITTED
MARCH 7, 2019 – PASSPORT REQUEST
MARCH 18, 2019 – RECEIVED PR VISA
Since Mr. Dalguntas was one of my first batch of clients for the New MPNP program, it was a tough application but a very educational one. Thank you for letting us be a part of your Canadian journey!
Congratulations to my nephew Elison Duque Jr. and his family for getting their PERMANENT RESIDENT VISA via the MPNP Program.
My mother's wish of bringing the rest of the family here is slowly coming true. The Third Generation Of the Duque's is in the house!!!
Bringing Elison and Loise Del Mundo Duque and their Kids is a joint effort of the Duques here in Canada. In their case, luck was on their side, their application was submitted on the last day of the old MPNP rules (2014). We also had to submit a couple of Procedural Fairness Rebuttals both Provincial and Federal , though we we won it hands down, lots of sleepless nights!!! Very happy with the end result. Victory 4 years in the making!
I also want to give credit to my nephew's effort and desire to immigrate to Canada. Despite being told that they don't have a chance to come here, they persevered and put their trust in me.
And I would like to give a shoutout to a couple of my Staff who have slaved over their application, just because they know how much this means to me. The Duques thank you from the bottom of their hearts, you are the true unsung heroes of this application, Thank you!!
To Ellison and Neloiza and family Welcome to Canada!! May you prosper and finally find your dreams and make your own niche in this new world ..Make it count kid!!
Welcome to Winnipeg Rina Reantazo!!
Hailing from the beautiful country of Dubai, Ms.Rinna touchdown in Winnipeg on a snowy night of December 3,2016.
Ms. Rinna journey has never been easy, it took a lot of resources and expertise to successfully navigate the immigration waters.
We first applied Ms. Rinna under the Federal Skilled Workers (FSW) program in 2013 since her occupation, Medical Lab Tech was under the FSW- Priority Occupations List. She was well over qualified, unfortunately, her application was Rejected. The stream was a first come first served that by the time her application is in line to be reviewed by CIC, the occupation was already been capped.
We immediately decided to shift her application to the MPNP – This is the time that Federal Government has implemented the Express Entry Program in 2014 that allows certain provinces to participate and nominate applicants who meet at least One of the Three Federal Economic Immigration Program criteria.
Needless to say Ms. Rinna's application was one of the few selected candidates by the Province of Manitoba to participate under the Express Entry, which supposed to expedite the process within 6 months. But when we submitted her application to Federal It was again Rejected . This time is due to the higher language requirements by the Federal Government under the EXpress Entry.
We reapplied her again thru the MPNP and after multiple trips into that office, she finally got nominated again to the Program.
Kudos to her sister, Ate Tess Calanio who have painstakingly help us complete the requirements. Ms. Rinna is the youngest of the 8 siblings. Her sister's dream of bringing the rest of the family here is one step closer. Hey 6 more to go!!!
Again congrats Rina Reantazo, DSMACS Consulting Inc will continue to support any of your immigration needs.
There is such a thing as Forever!!
Bryan like most young, ambitious Filipinos came to Canada to seek a better life. He came in by virtue of the MPNP. Like most new immigrants, coming down here was a mixture of victory and defeat. He left his heart in the Philippines.
The greatest fear of the one being left behind, Is the answer to the question, Is he coming back? Are we meant for each other? For the one that left, the foremost question in his mind, would I make it? Is all of this sacrifices worth it?
On December 2016, Bryan Trinidad went home to marry his longtime love. It was the happiest moment of his life, Here he thought was the culmination of everything he had worked for. They have survived a long distance relationship, time difference and numerous lonely nights.
On April 2, 2018, IRCC finally asked for his wife's passport for the issuance of her Permanent Resident Visa. For him the waiting is almost over, they could finally start the life they have always been dreaming of.
Congratulations Bryan and Ann Kimper Trinidad and Family, I wish you all the best Life could offer!
Congratulation Ms. Ina Mae Bardoquillo!
Ina is coming to Canada to study @ the University of Manitoba for a year. She's a graduate of Adamson University with a Bachelor in Psychology at a young age of 23. She is also a licensed Psychometrician since 2016.
She would be joining her Aunt, Maricel Guina in Winnipeg, who has been a strong ally and support during her application process.
We would like to thank you for trusting Duque Immigration Services with your Student Visa Application!
#UnitingOneFamilyAtaTime
Sa mga mag me message Po sa kin, just add nyu na lang Po si Joel Duque..... tried and tested... he will help you all the way...he did help my niece and her husband (Joy Romero and Sonny Duran)land here in Canada... we were just one of the many people he had helped.. thank you again, Duque Immigration... Joel and the team...
Congratulation Kris Bornilla for successfully completing your Hotel and Hospitality Services program and for getting your PGWP approved!!
Thank you for trusting DUQUE IMMIGRATION SERVICES for all your Immigration needs. I am so proud of you kid.
Good luck on your future endeavours. #NextStepPR
Welcome to Winnipeg again Kuya Ezon Padua Duque
Firstly, It' has been awhile since we posted here on FB. We have been really busy with our business name transition from DSMACS Consulting INC to DUQUE Immigration Services Inc. Thank you to everyone that gave their suggestions and feed back. Stay tuned with our many immigration stories and workshop coming up soon!
Our first story under Duque Immigration Services means a great deal to me. This is actually the very first time I have experienced dealing with the Citizenship Immigration Canada.
When my brother Kuya Ezon got refused for Visitor's Visa 23 years ago (1996). I went to plead his case to the Canadian Embassy with the help of Dr. Rey Pagtakhan.
I wasn't really sure how I was gonna tackle the resubmission or how to appeal his case, but Dr. Pagtakhan was an amazing mentor. He gave me his insight and guided me with the process. Reading some case-laws I was able to maneuver and overturned the decision of my brother's refused TRV to a resounding yes!!!
I remember Dr. Rey told me that I have a natural knack for the immigration law. Whenever anybody ask me how my ongoing love for Immigration got started, it always go back to that moment.
When I went home to the Philippines this year, Kuya Ezon told me that he would really love to come back to visit Canada again. This will be a great opportunity for him to visit his children, grand kids and also the rest of our family.
The recent approval of his TRV is kind of emotional for me. Besides the fact that he was my very first client, Kuya Ezon and his wife Ate Antie has always acted as our guardians since the lost of our father. If not for them we would have had a different childhood.
I didn't realized how lucky we were to have a brother who were willing to carry us on his shoulder when he has a family of his own to support. Despite of working 12 hours as jeepney driver, he always manage to spend some quality time with us and brighten our days. I remember him waking up at late nights with pasalubong" (snacks) and tell us some funny jokes. Everyone always look forward whenever he comes home.
That is our Kuya Ezon he is a kind, loving and his loyalty towards us is almost Immeasurable. He loves us unconditionally.
So with the help of his sons in CanadaElison Brotonel Duque Jr. And @totoy Duque, Kuya Ezon is now back in Wpg. again. This time I applied him for 10 years visitor's visa and got approved. .. From the bottom of my heart Thank you Kuya Ezon and Ate Antie for what you have done for us. The things you did is priceless and I don't think there is anything we could do to ever repay you guys, but I hope this would at least show the sincerity and gratitude in how thankful I am to have you as the only Kuya Ezon while we were growing up!
#ReunitingFamiliesSince2016
#DISCanadaInc
#SixthOutOfFourteen
WELCOME TO WINNIPEG Ms. Princess Hyacent Garbo!!
Congratulations Princess Hyacent Garbo for getting your STUDENT VISA Approved! You also get to bring your daughter with you. I am ecstatic that you and your family will get to experience the Canadian Education System at the same time!
Special thanks to your mom Hyara Fae and your step-dad Jerry Emms who have done a superhuman effort to get you here.
We submitted Princess' and her daughter's Study Permit application on February 12, 2019, and received a positive response on February 21, 2019. Princess will start at the University of Manitoba this coming May 9, 2019, and her beautiful daughter will be attending elementary.
Thank you for letting us be a part of your Canadian journey!


NOTE: The laws that cover any Canadian Visa can be rather complicated. It may be in your best interest to talk to an experienced and Regulated Canadian Immigration Consultant (RCIC), who can give the proper advice and support for your case. DUQUE IMMIGRATION SERVICES will provide representation and advice to foreign nationals who are looking to obtain a Canada visa and enter Canada Permanently or Temporary in the most affordable and highest quality solution.

#UnitingFamiliesSince2016
Marck Lorenz Puga Reintar
Congratulation Marck Lorenz Puga Reintar!!!
Congratulations Marck Lorenz Puga Reintar for getting your Student Visa approved!! Marc graduated with a Bachelor of Science in Pharmacy in 2014 and has a solid working background in this field for the last couple of years. He is going to start his continuing Education at the University of Manitoba this coming Spring Semester. Marck would be a good addition to the growing Filipino Professionals in Manitoba and would greatly contribute to the booming economic surge in this Province.
We are slowly changing how Filipinos emigrate to Canada. The usual norm was for them to immigrate here, worked odd jobs for a few years and then they go back to school to upgrade. I lost count how many many Filipino professionals have expressed frustration that they couldn't practice what they studied and graduated back home. This time we are going the other way, Study first, Work, then go for PR!!
We submitted Marck's Study Permit application on January 29, 2019, and received a positive result on February 8, 2019. Marck will start at the University of Manitoba this coming May 9, 2019. Marck would also be reunited with his aunt, Edel Soriano-Esquejo who assisted with the process every step of the way.
Thank you for letting us be a part of your Canadian journey!

Sponsoring the Same Sex-Partner
I have the honour of being in service to our LGBT Community recently. This was one of the immigration cases that I want to make a difference.
The couple came to me because they are on the pre-refusal stage for a Sponsorship Visa. They are same-sex partners from the Philippines. I am proud of these ladies who have withstood every roadblock of being together just to have a chance to get their happily ever after.
Immigration itself is already an arduous process and a lot of the procedural fairness cases like this is a losing battle. So it is very important for applicants to know the law and be familiar with the process that they have to undertake.
Compared to 10 years ago same-sex relationship in today's generation is very much well received. But same-sex relationship coming from a Filipino Culture with devout and strong Catholic Influence is a struggle. To sponsor your same-sex partner in Canada as a Common Law is like throwing a Hail Mary! It is easier said than done!
This is the story of Sheena Flores and Ms. Geraldine Dasig Lagmay.
Sheena and Geraldine both attended the same College and met during Sheena's visit to the Philippines in 2015; they met through their common friend. Both are competitive basketball superstars from The University of Baguio. The two hit it off and they begin to fall for each other. They knew right from the start that they were meant to be together.
It is not surprising that they have to hide their relationship. Unlike the usual boy-girl relationship, it is seldom known and is much less celebrated for the world to see.
Geraldine and Sheena, despite the challenges within the society that they live in, flourished. They have kept their relationships alive and it even got stronger than ever. However, there are not many traces to look back to, which made it even more difficult for us when we responded to the Pre- refusal letter (procedural fairness letter).
Sheena has been in Canada since 2009. She sponsored Geraldine as her common-law partner in 2017 but have encountered a lot of issues trying to prove the genuineness of their relationship.
Honestly, I have second thoughts If I could win this case, but it's one of those challenges that any immigration consultant dreams of. I wanted to make a difference, equality in Love. They are already on the last phase of the Federal Process of Immigration and they could be together again. How could I refuse?
Everybody deserves to have their own happily ever after. In this instance, It's well deserved, I felt proud of these two amazing ladies for not giving up, for being brave enough to be who they are, and embrace it, and be proud of it!
Thank you for this learning opportunity, for trusting me and importantly, for allowing us to post your story. We hope this post is helpful and would open a window for those that are in the same situation. Please contact us for Free Confidential Assesment and Consultation. Welcome to Canada Geraldine Dasig Lagmay!
#ReunitingOne[email protected]
NOTE: The laws that cover any Canadian Visa can be complex and rather complicated. It may be in your best interest to talk to an experienced and Regulated Canadian Immigration Consultant (RCIC), who can give the proper advice and strong legal strategy. Duque Immigration Services will provide representation and advice to foreign nationals who are looking to obtain a Canada visa and enter Canada Permanently or Temporary in the most affordable and highest quality solution.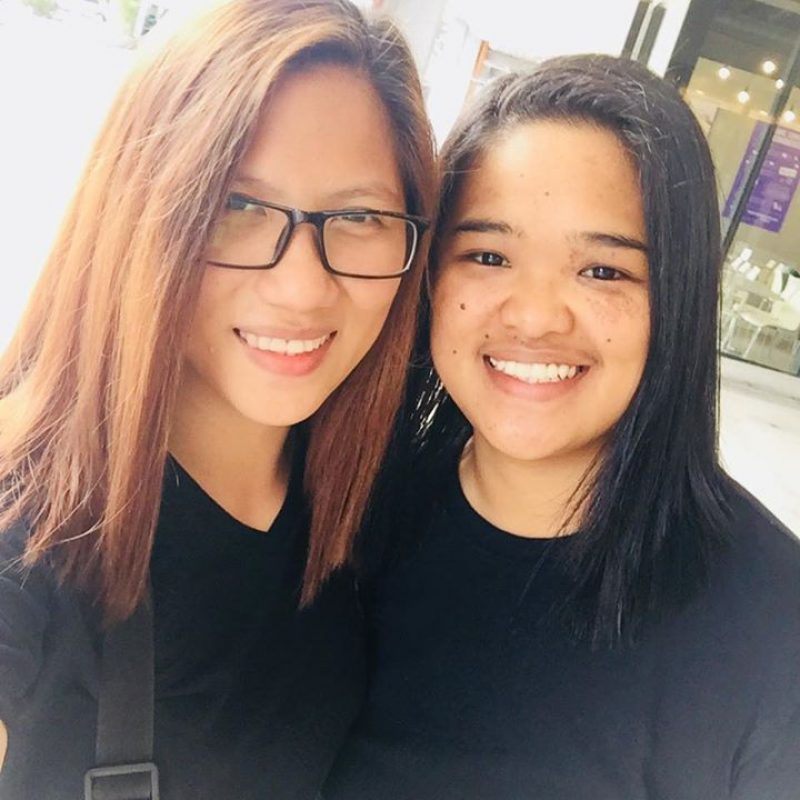 "I bought this Canada ornament earlier today to remember this special event in our lives – Ricardo passed his immigration interview this morning and got his permanent residence!! This past year has had many changes, but at least now my family is complete, stable and here to stay for good. Thank you Joel Duque from DSMACS Consulting for getting us through the tedious paperwork!"
– Lucille Galvez 
Being in a relationship with someone in another country surely has its challenges. However, after a rough battle with Canadian Immigration, I am happy to announce that Ricardo's visa application finally got approved! He should be here in time for Halloween! 😍😘 We wanted to thank our immigration consultant Joel Duque and his entire team at DSMACS Consulting for all their efforts on getting us through the storms of this process!! They are a 24-hour consulting firm and we highly recommend them!! 😊
I have learned a lot with this application. With the changes in the New Caregiver program there are a lot of questions have crop up especially for the ones that are already inside Canada and worked as a Live-In Caregiver.
However, it is quite scary especially when the Live-In Caregiver Program is currently closed and what makes it more challenging is when the Applicant is about to lose her status.
There are a lot of stress when one is a facing deadline, coupled with the fact that they have received advises from a non regulated or non licensed fly by night Immigration consultant.
This is the story of Ms. Ester Cabato.
Ms. Ester came to BC, Canada as Live -In Caregiver in 2013. She did everything right and applied for PR and Open Work Permit after he hard work for 2 years. Ms. Ester received her OWP immediately while waiting for her PR being processed. However, At the time that she submitted her application, It appears that her youngest child has met the definition of a dependent child and therefore CIC (IRCC) have requested for her to provide additional documentation.
Although Ms. Ester have tried to secure documentation before deadline, desperately running out of time she took an advice from an unauthorized person that turned her application to a nightmare. She was advised to withdraw her PR application to buy time and just continue to work by extending her open work permit, but it doesn't really work as easy as that. To make the long story short she received a refusal for her Open Work Permit from IRCC on April 2019 and reminded that she must leave Canada By June 13, 2019.
Ms. Ester immediately sought help from the constituency office of our Hon. Flor Marcelino who acknowledged that Ms. Ester's immigration status is now in jeopardy and it is beyond what their office could handle. Tita Flor Marcelino's office understood that there is more to immigration that just reading the CIC links, each case is unique and the application depends solely on each applicants case.
Professionalism is the Key on my part. Although there are many people tried to inetervene and get involve in this process, it is my duty to represent and serve my client with my best foot forward and stayed focus of the main goal; to keep the status of the client remained valid!
However, to correct an application requires a lot more paperwork and demand special attention since deadline is quite close.
A reminder to those of you that are dealing with the he same issue, It is always best to seek professional advice right from the beginning otherwise it can be very costly.
We submitted Ms. Ester's PR application and OWP at the same time on June 10, 2019 . Although it was quite a challenge to gather supporting documentations, it was the proper framing within the limit of the law, 24-7 customer service and submitting on time was definitely the key.
Congratulations Ms. Cabato for getting your Open Work Permit approved and extended till July 2020. Now it's PR time, and we hope to include your son in this application.
Thank you again for trusting us with your immigration matters.
#UnitingFamilies1atATime
Welcome to Winnipeg Mr. Christopher Navarro!! 
Congratulations Baker's Bowl to having your TEMPORARY FOREIGN WORKER application approved. Having to have the right skills and experience to maintain your business standards is as important as ever to maintain competitiveness within the food industry.
With the COVID 19 Crisis in the last few months, it was harder to get people here in Canada, but with the Manitoba reopening plan hopefully, this would again help jumpstart our economy for the year 2020.
Bakers Bowl thank you for trusting Duque Immigration Services!!
Evalinda Patacsil Alcantara
Congratulation Mrs. Alcantara:
One of the hardest things a Mother have to go through is to be separated from her own child. Ms. Gen (Le Nouveau Moi Ge) immigrated to Canada in December 2015 through the Manitoba Provincial Nominee Program.
In order to build a better future for her child, Ms. Gen has to take on a full-time job. Anxious of leaving her child for long hours at the hands of a stranger, in March 2018, she made the difficult decision of bringing her son Graye, to the Philippines to be taken care of by her mother Evalinda Patacsil Alcantara. In the last year, Ms. Genielyn has been working a combination of full and part-time work, so she can build a foundation financially to bring back her child to Canada.
Ms. Gen made an attempt in applying her mother, Evalinda for TRV in late 2018 (visitor's Visa) to accompany her child, unfortunately, she was refused.
We re-submitted Mrs. Alcantara's Visitor's Visa application on July 5, 2019, and received a positive result on July 15, 2019.
TRV is one of the easiest app to do and yet it has the highest refusal to date. The more refusals you get, the harder it is to get an approval. To my Kababayans who are doing their own applications, consistency and accuracy is the key.
Thank you, Ms. Gen (Le Nouveau Moi Ge) and Family, for always trusting me with your Immigration needs.
#[email protected]!
Maria Janette Navarro Jajalla
Congrats Ms. Maria Janette Navarro Jajalla and your Baker's Bowl for your LMIA approval!
Visitor Visa Extension
Extending your stay as a visitor can be complicated and most definitely can be stressful and nerve-racking. That's because there is actually a higher risk of refusal in cases where the application is not properly prepared.
It will be critical that you know what evidence, or lack thereof, to convince that you would return to your country of citizenship. Thank you for trusting us with your immigration endeavours Ms. Arlene Pamintuan Atilano